It was Michael Van der Ham's second standalone show at London Fashion Week earlier today. One of the loveliest designers we know, we had our fingers crossed that he'd wow the style set with something beautiful for AW11. To our delight, he did just that! The plush, jewel-toned velvet dresses and silver-fringed trousers that he sent down the catwalk are set to be a sure hit come next winter. 
Backstage after his show, Michael told us that he was looking to move on from the collaged ensembles that have become his design signature since graduating from the Fashion MA at Central Saint Martins back in 2009. Although this collection still had Michael's name written all over it with collaged techniques used throughout, the designers' focus and exploration of singular fabrics meant that the clothes had a rather different feel.
Take Michael's striking velvet dresses. Through splicing and placing alternating grains of velvet together, they shone radiantly, whatever angle you looked at them from.  And with their off-kilter necklines and opulent tones, they were both timelessly elegant, yet startlingly fresh. 
What was also new and particularly striking was Michael's extended exploration of knitwear. Taking inspiration from vintage floral prints, delicate flowers were beautifully worked into fine Italian jacquard knitted dresses and sweaters that quite literally shone with their highlights of gold and silver Lurex. Teamed with wide-leg trousers in bright bolts of colour, the effect was stunning – we can ourselves in those orange ones! 
Michael's take on sartorial classics – mohair jackets and coats, as well silky wide-leg trousers – was also stunning. With no two sleeves or waistbands the same, the playful side of Michael's work that everybody has come to love remained.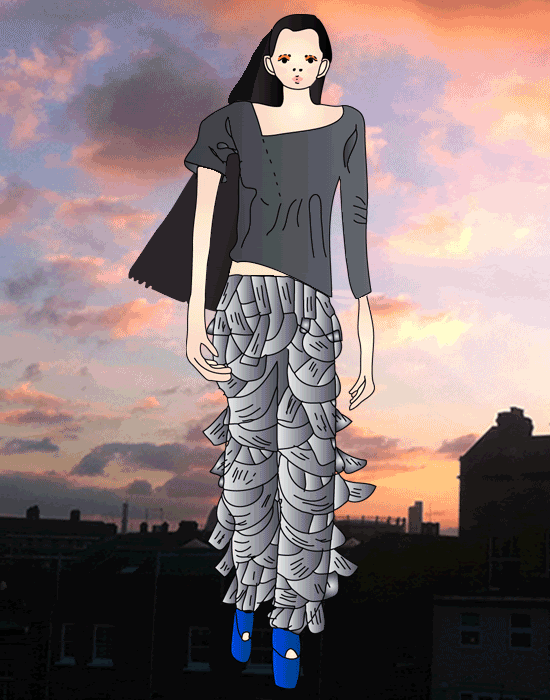 Who's putting their name down on the list for Michael's glistening dusty-rose fringed trousers? We heard a few of the models' gushing over them backstage and Margot Bowman  who did this super cute illustration for us is loving them too,