The royal wedding is finally just around the corner and we at Topshop HQ are getting very excited to celebrate the biggest British event of the year this weekend. Want to make the most of the festivities? We made some plans for you, including fun places to watch the ceremony, what to wear and how to make a vegan strawberries and cream cake if you're hosting a viewing party yourself…
1. Where to watch the wedding
What could be more fun than watching the ceremony at a themed public viewing party? We've found the three best events you shouldn't miss…
The royal wedding party, One Marylebone
One Marylebone's all-day event is set to be the royal wedding party in London, with screens streaming live from Windsor, themed entertainment, floral headband and bouquet making classes, traditional British games and loads more…
Royal wedding street party, Dreamland Margate
Head to Dreamland Margate to experience the ultimate street party celebrating both the royal wedding and the FA Cup Final! If your name is Harry or Meghan, or you're wearing a wedding dress on the day, you'll even be able to join in for free!
Royal rooftop wedding party, Queen of Hoxton
A rooftop wedding disco where you can get 'married' Las Vegas-style, complete with a Drag King Elvis? Grab your bestie, boyfriend, girlfriend or anyone you want to spend the rest of your life (or at least the rest of the day) with and enjoy a fun-packed day at Queen of Hoxton's alternative royal wedding party.
2. What to wear
Want to look the part, but still stay true to your own sense of style? We've picked the best royal red, white, blue and gold pieces for you to choose from…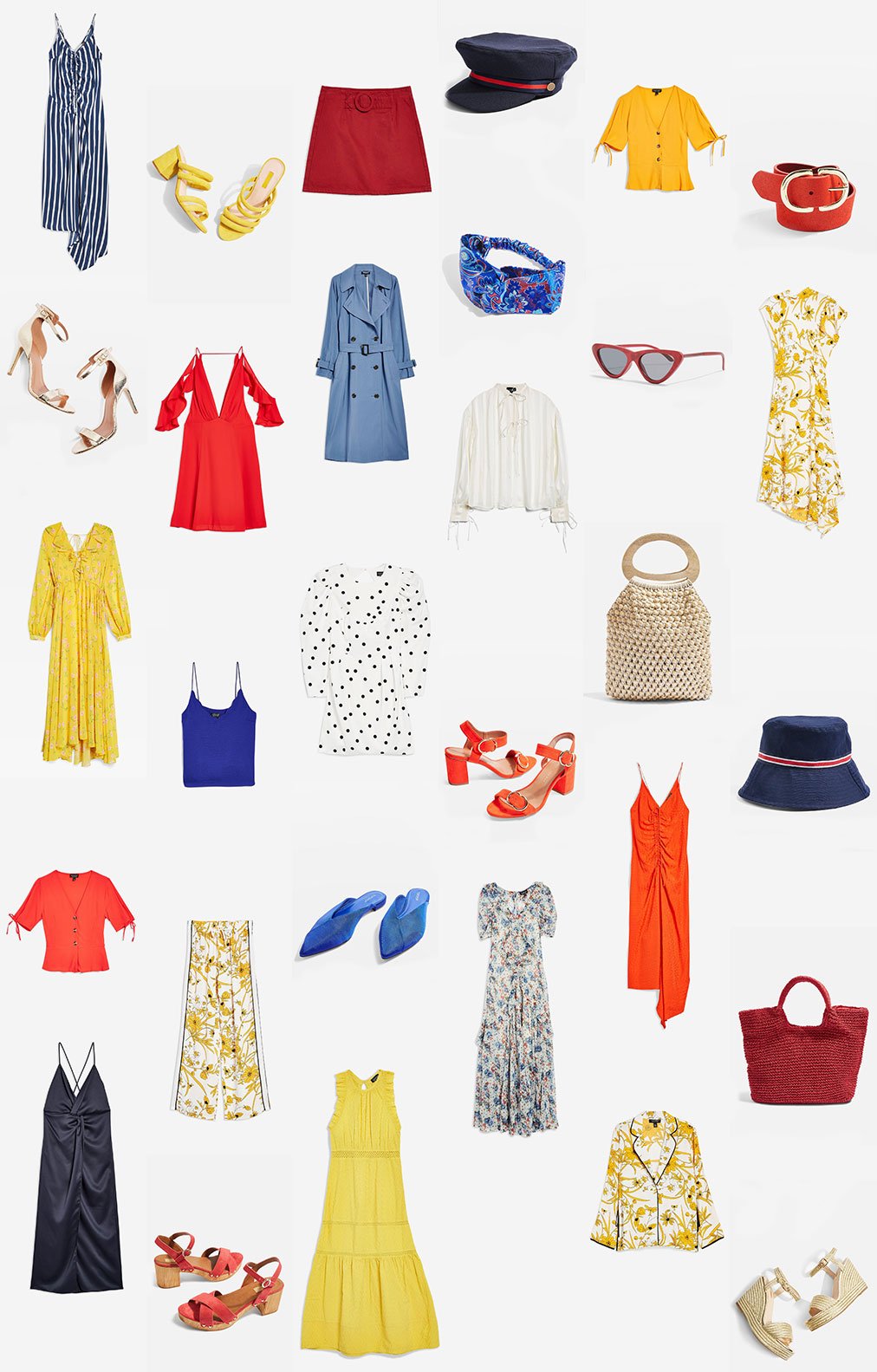 3. What to eat
If you're hosting a viewing party yourself (or just want to indulge on all things British) this weekend, we've got the perfect recipe you need to try: a vegan strawberries and cream cake that natural baker Olivia Wollenberg, founder of Livia's Kitchen, created exclusively for us. Keep reading for the recipe…
Ingredients:
For the vanilla sponge…
160g cashew butter (1/2 cup + 1 tbsp)
250ml coconut milk (1 cup)
75g coconut oil (1/4 cup + 1 tbsp)
280ml maple syrup (1 cup + 2 tbsp)
375g ground almonds (3 1/2 cups)
270g buckwheat flour (2 1/4 cup)
90g coconut sugar (3/4 cup)
3 tsp vanilla powder
A pinch of salt
Coconut oil for greasing the tins
For the strawberry jam…
400g fresh strawberries
1 tbsp chia seeds
For the "cream"…
400g vanilla Coyo (Coyo is very thick and we've found that it works the best for the perfect icing effect)
Method:
To begin making the sponge; heat up the cashew butter, coconut milk, coconut oil and maple syrup on a low heat on the stove. Whisk the mixture every now and then until everything's combined.
In a separate bowl mix the ground almonds, buckwheat flour, coconut sugar, vanilla powder and salt.
Add the wet mixture in to the dry and stir until everything's combined. Pour it into 3 greased and lined tins (18cm/7 inches in diameter).
Bake your cake for 30 minutes, until you can stick a skewer in the middle and it comes out clean.
For the jam; slice 200g of your strawberries in to small pieces. Put them in a pan and bring it up to a boil on a medium heat. Leave them to boil for 20 minutes until they've released a lot of liquid, stirring occasionally.
Once thickened, take the strawberries off the heat and add your chia seeds. Mix until they're well incorporated in to the strawberry jam and leave for 5-10 minutes to firm up.
With the rest of your 200g of strawberries, leave 8 to the side and then thinly slice the others which will then be placed in-between your cake layers.
Once cooled, put your bottom layer of cake on a plate and spread some vanilla Coyo on top of it. Add half the sliced strawberries on top of the Coyo and then place your middle layer on top. Spread out your strawberry jam on this middle layer and add the rest of your sliced strawberries.
Add your third and final layer on top of the strawberry jam one. Spread out the rest of your Coyo and cut your 8 leftover strawberries in half. Place the strawberries on the Coyo and enjoy!
This cake is best fresh but can be stored in an air-tight container in the fridge for up to 2 days if you have leftovers.